An Afrofuturist celebration of dreams and all things Blk. A documentation and creation of one's own past, present, and future. A ritual space where dreams are unconditional and possible through action.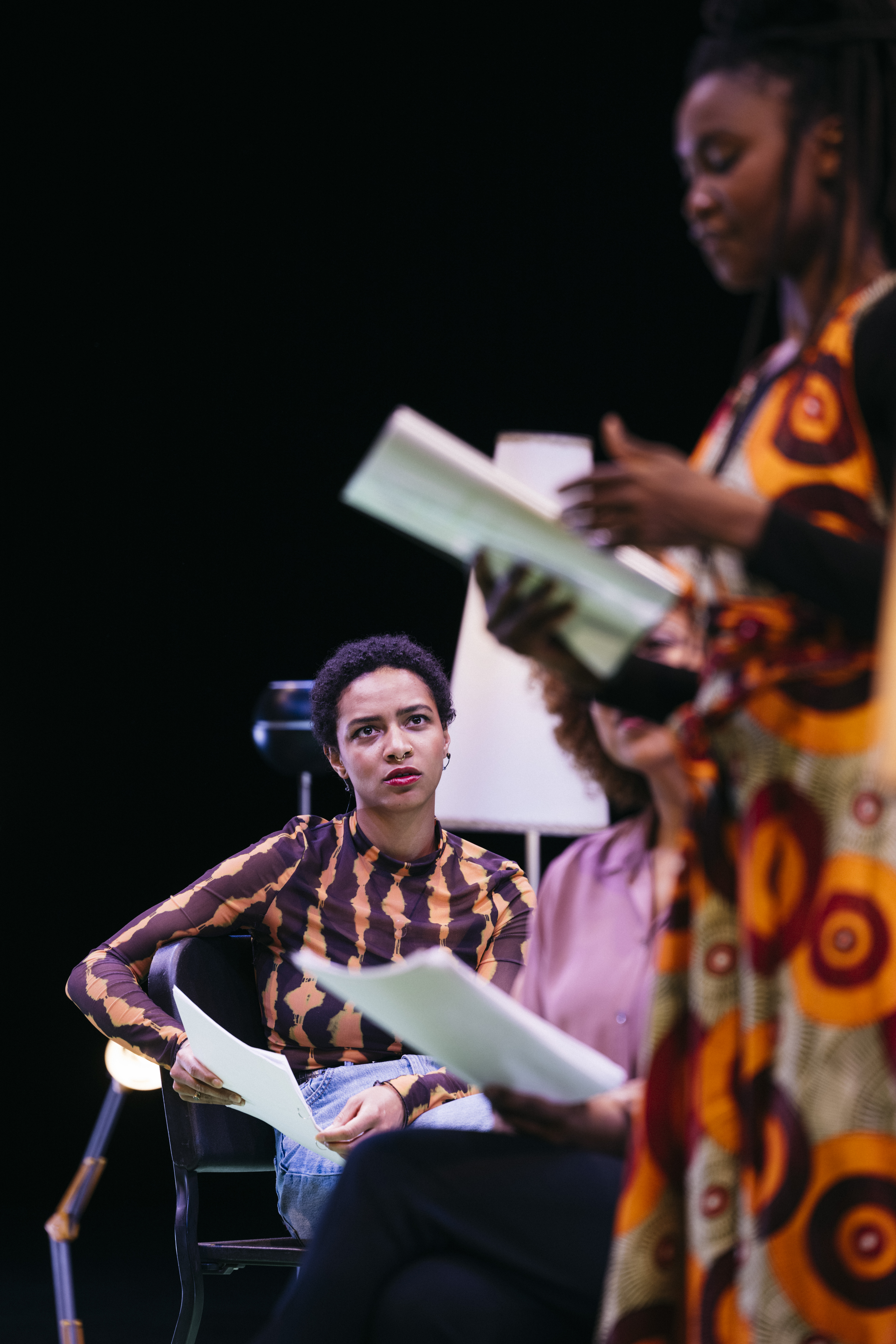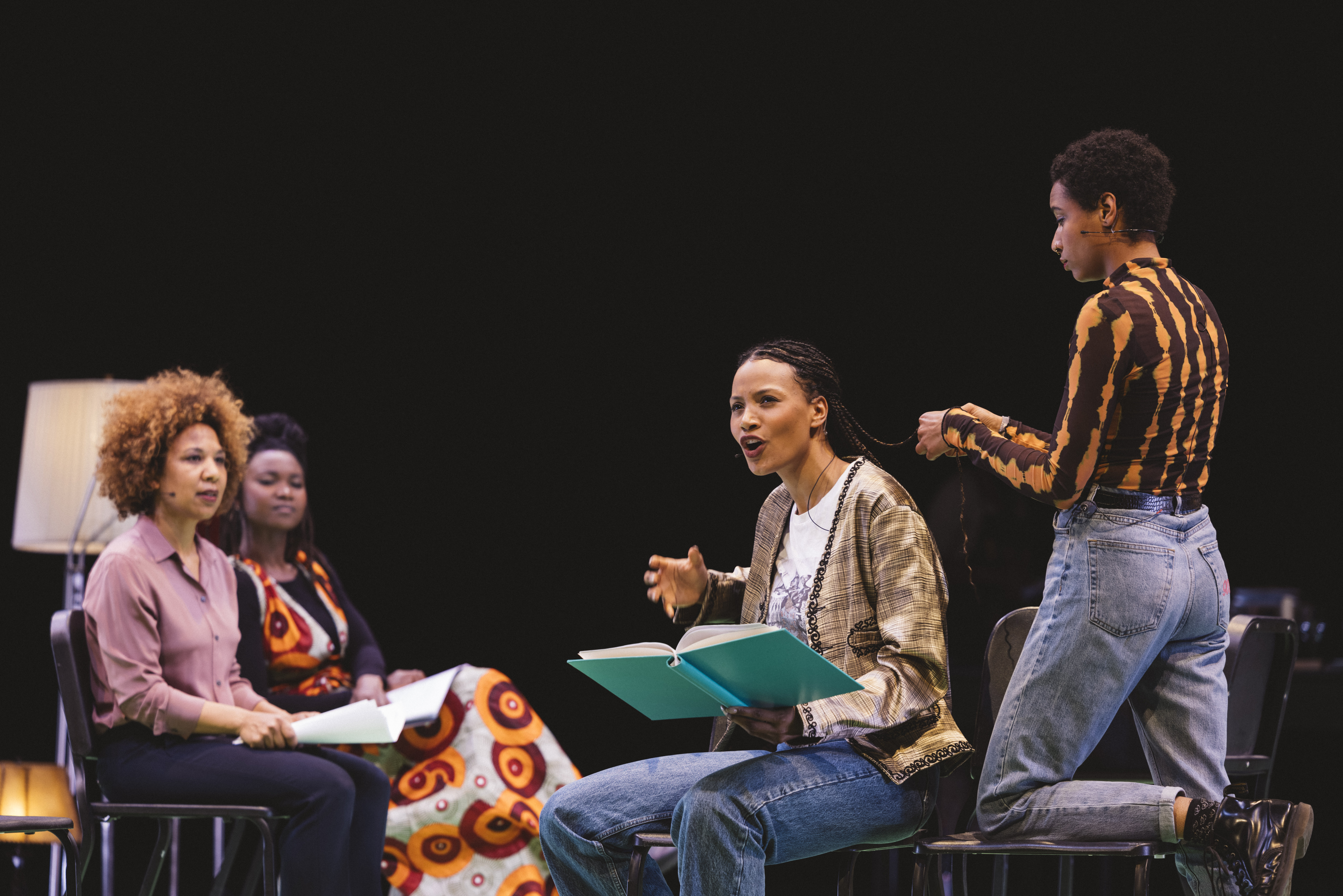 © Berliner Festspiele / Eike Walkenhorst
"The joyful celebration Ta-Nia presents in Dreams in Blk Major is a journey through popcultural references and narrations whilst it reflects the unspoken, the taboo. The invisible. It dismantles what theatre basically is and was: a white institution and once a ritual. A ritual that helps to cross boundaries, break taboos, disrupt narrations and sometimes creates communities. Offering irritation, maybe frustration, but also empowerment as a first step towards change." - Sarah Yawa Quarshie, Ensemble Member of Schauspiel Dortmund
//PRODUCTION HISTORY //
Theatretreffen's Stückemarkt (Berlin)
2021
Ars Nova ANT Fest 2019 (NYC)
2019
NBT/NYU Tisch (NYC)
2019
© Jeff Lawless
//PERFORMERS//

Theatretreffen's Stückemarkt (2021)
Amina Eisner, Victoire Laly, Alina Sokhna M'Baye, Abak Safaei-Rad, Barbara Saltman

Ars Nova's ANT Fest (2019)
Christen Dekie, Nia Farrell, Nile Harris, and Marissa Stamps

NBT/NYU Tisch (2019)
Christen Dekie, Nia Farrell, Jordan Hughes, Soma Okoye, and Marissa Stamps
I wanna make something that's ours.
Like our own universe,
with our own stories, and dreams, and possibilities.
A world that isn't contingent on a gatekeeper,
or a history bound by chains –
because there are no chains to begin with.
I want to create a future that's expansive,
and filled with light
and makes us light.
A future for us to celebrate in all its glory.
© Ars Nova ANT Fest / Danny Bristoll
"As a collectively written piece, "Dreams in Blk Major" celebrates collaboration, communal practice. Its intimate form of address, along with its political thrust, allows it to speak directly to each individual in the room, as well as to the collective in the audience and beyond. The text is grounded in reality, directly interacting with audiences, yet simultaneously evoking a poetic dream world. It lays bare struggles and hopes shared among the Afro-diasporic community in a transnational context, while offering reflections on individual dreams, and thus proposes politics that challenge concentrations of power. We find honesty not bound with reality and poetic thoughts that are still grounded with the audience as part of direct reality. Throughout, it speaks directly to the present moment with its unique set of urgencies while also attempting a dream of new futures." - Laila Soliman, Playwright + Dramaturg + Director
//CREATIVE TEAM//
Theatretreffen's Stückemarkt (2021)
Ernest Allan Hausmann, Scening arrangement
Katrice Dustin, Co-director
Hannah Schünemann, Dramaturgy
Anne Laure + Jullian de la Fuente, Design
Ars Nova's ANT Fest (2019)
Talia Paulette Oliveras, Director Ava Novak, Stage Manager
Roy Lightfoot, Asst. Stage Manager Bianca Rogoff, Producer
Cati Kalinoski, Environmental Design
Jacqueline Brocket, Mural Design
Carla Posada, Costume Design
Renee Yeong, Sound Design
© Jeff Lawless